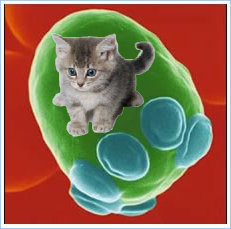 Uhm... many people like beer.
Not all of them know that this drink's alcoholic phermentation is made by a yeast called "Beer yast" or saccharomyces cerevisiae (and doubles itself to work... also to make bread, not only beer).
And they neither know that this yeast isn't really sociable (obvious, it works for two all the day...) like otherwise a kitten1 could be.
So the PGB Genetics Laboratoires are proud to present their biotechnological product: from the coupling of yeast an kitten, here is the SACCAROMICIO, a sociable yeast!
The only cons are that is always drunk, scratchs and leaves around its pee and poo...
--*--
1. In Italian "micio" is a kitten. And sounds like the latin "myces" (of the saccharomyces)
P.s.: in italian the word Saccaromicio sounds like SaccharoKitten and is near to Saccharomyces